Design Thinking is quickly becoming an essential skill for businesses in Marlborough. 
As a region that prides itself on its innovative spirit and dedication to progress, many of Marlborough's companies are turning to design thinking to help them stay ahead of the competition.
Design thinking is an approach to problem-solving and innovation rooted in user-centric design practices. By focusing on the needs and wants of the end user, businesses can develop creative solutions to challenges that are innovative and effective.
One of the key advantages of applying this model is its ability to bring together different stakeholders, such as customers, employees, and suppliers, to create a shared understanding of the problem at hand. This collaborative approach allows companies to develop solutions tailored to the user's needs, while also considering the company's resources and capabilities.
The five key principles of design thinking are:
User-centricity and empathy: Design thinking prioritises users' needs and feedback and seeks to understand their perspective through empathy.
Collaboration: Innovation is facilitated through collaboration between diverse and multidisciplinary teams.
Ideation: A core principle of design thinking is to generate as many ideas and potential solutions as possible.
Experimentation and iteration: Prototyping and testing ideas, followed by iterative improvements, is a key aspect of the design thinking process.
A bias towards action: Design thinking is a hands-on approach that values real-world testing and experimentation over discussion.
In 2018 Harvard Business Review published an article on "Why Design Thinking Works". It highlights the growing popularity of design thinking and its effectiveness in solving complex business problems. The article explains how design thinking approaches problems from the user's perspective, bringing together cross-functional teams to co-create solutions. It also mentions that design thinking not only results in better products and services, but can also improve internal processes and lead to developing new business models and strategies. Finally, the article concludes that design thinking is a valuable tool for companies looking to stay ahead of the competition and create lasting value for their customers.
Companies use the process to identify customer needs and develop innovative solutions to address them. This can include developing new product features, services, and processes that meet customer needs. Design thinking has been successfully applied in a wide range of industries, including healthcare, education, and technology. For example, the IDEO design consultancy has worked with clients such as Apple, Pepsi, and Samsung to create innovative products and services.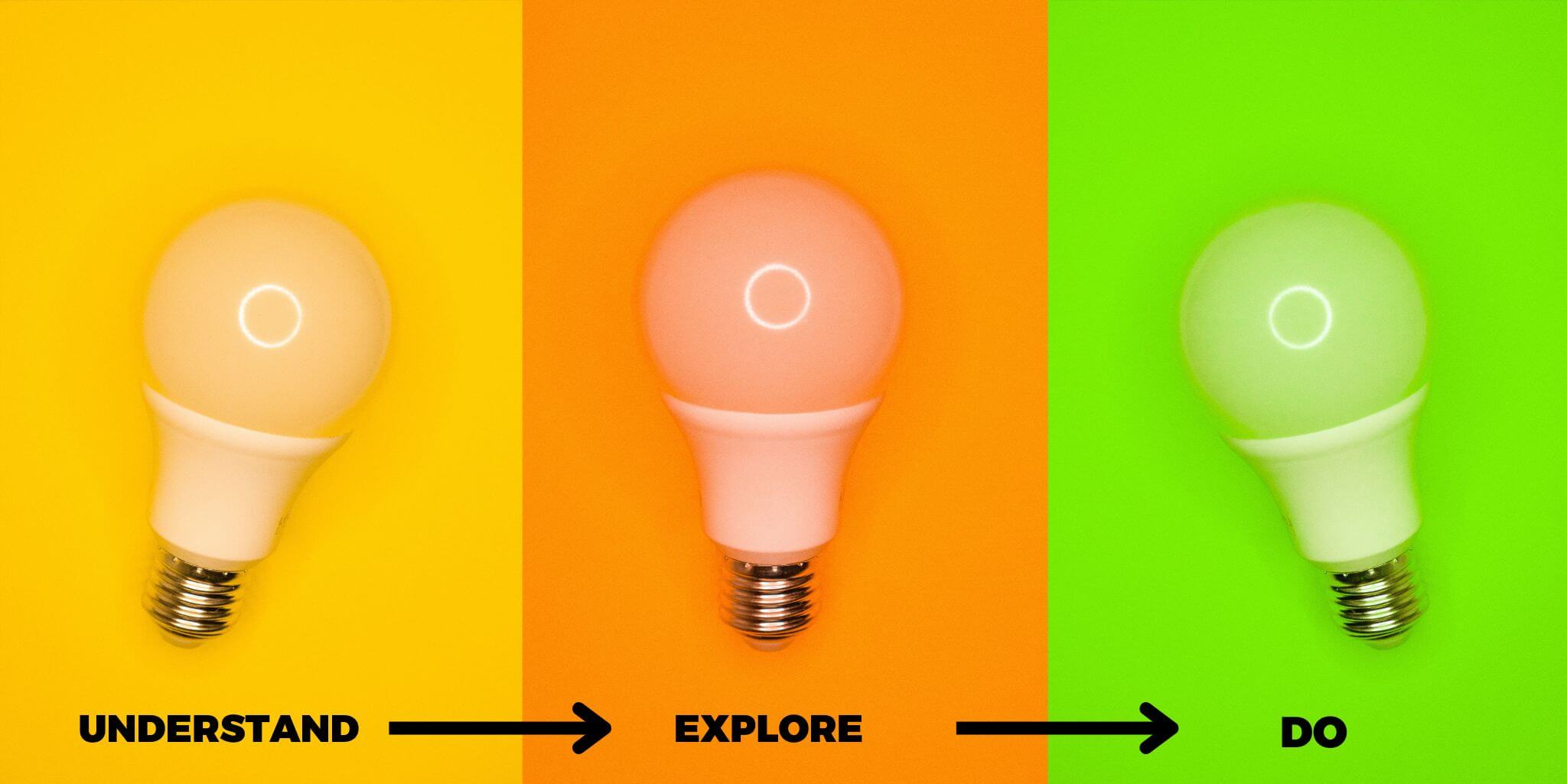 Design thinking is being used to develop new products and services and improve existing ones.
You can also use design thinking to improve internal processes and systems. This can include streamlining processes, increasing efficiency, and reducing costs. Another way it can be used internally is to create new business models and strategies, such as launching new products or services, entering new markets, and expanding into new territories.
One of the key benefits of design thinking is that it allows organisations to create solutions that are not only technically and economically feasible, but also desirable to the user. This user-centric approach leads to more innovative and effective solutions and increased customer satisfaction.
The design thinking approach comprises three key stages: immersion, ideation, and implementation. This approach can be divided into five specific steps that make up the design thinking process:
Empathy: This step involves understanding the user's needs and perspectives by putting yourself in their shoes.
Definition: This stage involves defining the problem or challenge you are trying to solve.
Ideation: This step involves generating as many ideas and potential solutions as possible.
Prototyping: This stage involves creating tangible prototypes of your proposed solutions.
Testing: This step involves evaluating your prototypes and making changes based on user feedback.
It's important to note that the design thinking process is not linear, and each step may overlap and be repeated multiple times as new insights are uncovered.
Design thinking has been applied to various industries, problems, and business areas, leading to positive results. Here are three examples from real New Zealand companies showcasing the impact of design thinking:
Xero - By constantly engaging with its customers and understanding their needs, Xero has been able to create a product that is user-friendly and meets the needs of small businesses.
Fisher & Paykel - The company's focus on user-centered design has led to the creation of products that are both aesthetically pleasing and highly functional.
Smart Machine - This local company developed Oxin, the world's first autonomous, multi-functional vineyard tractor, which can complete multiple tasks in a single row pass, managed remotely by one operator. Oxin has advanced sensors, data capture capabilities, and connectivity, which allows growers to make faster and better decisions in vineyard management.
As a region that is constantly striving for progress and innovation, Marlborough businesses are leveraging the power of design thinking to stay ahead of the competition and create lasting value for their customers. By embracing this user-centric approach to problem solving and innovation, companies in Marlborough can capitalise on their region's innovative spirit and develop creative solutions to their challenges.