August 2021 Real Estate Round Up – Informing Marlborough
A summary of some of the recent developments shaping New Zealand's housing
market over the last month.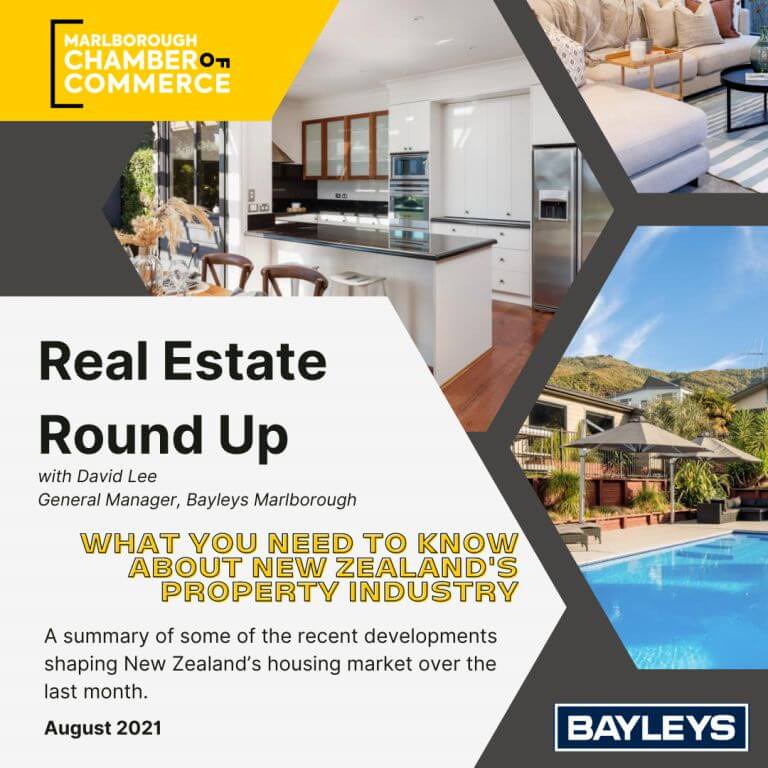 WHAT YOU NEED TO KNOW ABOUT NEW ZEALAND'S PROPERTY INDUSTRY
Economists across the country now expect a lift to the Official Cash Rate (OCR) sometime in the next three months. This is in light of rising inflation and an economy that is performing better than expected in the face of resurgent pandemic disruptions.
Strong domestic demand for goods, services, and homes has prompted the Reserve Bank of New Zealand (RBNZ) to call an end to its Large-Scale Asset Purchase (LSAP) bond-buying programme introduced as an emergency measure in response to COVID-19's effects on the economy.
While the message is clear, we can expect to feel the effects of tightening monetary policy from here on out. Recent developments, such as an out-of-control COVID spread in Australia and the Pacific, coupled with capacity constraints and the difficulties facing businesses across New Zealand, could see a 'proceed with caution' approach assumed by the RBNZ.
The situation is akin to the Government's intervention in the housing market, with targeted policy reform so far failing to produce the downturn some had anticipated. Globally, house prices are rising at the fastest pace since 2006. The property industry's contribution to the economy is felt no more strongly than in New Zealand. In the decade to 2019, New Zealand's property industry directly contributed $41.2 billion (or 15 percent of total Gross Domestic Product) to the economy, up from $21.6 billion (12 percent) in 2009.
The property industry employs one in 11 Kiwis with more than $3 billion of Kiwisaver funds invested in residential assets. The recent findings in a Property Council of New Zealand-commissioned report provide a clear indication of the value of this critical market segment. There are several significant reasons why it is not in the Government's nor ordinary Kiwis' interests to see values regress.
Recent high-profile transactions are bucking expectations for winter market activity, with the latest a $9.525 million beachfront home in Tauranga's Mount Maunganui sold by Bayleys salesperson Kay Ganley, providing evidence that there remains strong interest across the marketplace for quality homes.